Touch screen has become popular in various field of commercial and industrial, for instance: banking, travelling, business and nursing. However, not every client are using custom design touch screen, a lot of users are still purchasing big brand regular product than custom touch screen.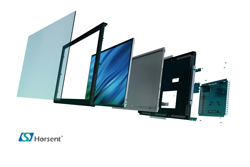 There are 5 reasons why you should choose custom design touch screens:
1.   Telling your brand.
Whether you are as small as a food vendor, a or big restaurant in the downtown, a touchscreen with your brand name telling your story in our places should be branding and could be a great help to your business. To some degree, it is your touchscreen, your device now, and it should have your brand on the machine.
2.   Spectacular features for your application
Regular touchscreen, like other regular PC equipment are built in a volume of million, so they have to meet the demand of most application: Office and home, yes, most of the monitor or touchscreen is made for office and home, perhaps a few for business. However, they are hundreds of different types of business and places which ask for dozens of features: for example, a café house need water proofing touch screen for self payment in food and bravery, and an outdoor tourism service center needs a sunlight readable and high brightness touch monitor. These spectacular features can only be found in custom design touch screen.
3.    Individual custom service
Custom design always have custom design service as only for you. The components, design and solution can be as required. Horsent offers dress-maker level customer design for your touch screen terminal.
4. wide range of custom design range
In Horsent, the range of customer design compromise:
a. Appearance, material, design, coating,  as custom drawing,
b. Display(brightness, resolution, contrast, ratio, view angle
c. Touch screen technology (PCAP,SAW,IR)
d. Glass and film(antiglare, anti-vandal, anti-finger print, privacy filter)
e. Touch point (single,10touch points to 40 points)
f. Firmware design
g. Port and interface(DVI/VGA/HDMI/DP…RS…)
h Accessory Wire and length custom design
I operation temperature
J. Functional (camera, speakers…)
More details about Horsent custom design, pls contact our sales.
It has been a trend for commercial and industrial clients to choose custom touchscreen. Horsent has rooted in touch screen design and manufacture for 8 years, and most of our engineers have been in this field for over 15 years. There is no reason we cannot offer you reliable touch screen in low price. 
---
Post time: Jul-29-2022